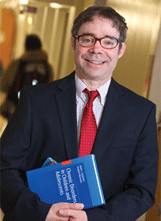 Stephen Morewitz
Income does matter. That is according to Cal State East Bay scholar Stephen J. Morewitz, lecturer in the university's Department of Nursing and Health Sciences. He analyzed survey data of the National Health and Nutrition Examination Survey and discovered that patients with low household income were less likely to have their feet checked for sores by physicians.
Dr. Morewitz said that "clinicians should incorporate foot assessment into regular patient care practices to decrease patients' risk for lower extremity morbidity and mortality."
The CSUEB faculty member will present these results at the 72nd Annual Scientific Meetings of the American Psychosomatic Society in San Francisco on March 13.
Morewitz is the author of more than 100 publications, including the Handbook of Forensic Sociology and Psychology (New York: Springer, 2013) (co-edited with Mark L. Goldstein) the award-winning book, Stalking and Violence (New York: Kluwer/Plenum, 2003), the award-winning book, Domestic Violence and Maternal and Child Health (New York: Springer, 2004),Chronic Disorders in Children and Adolescents (New York: Springer, 2011), Chronic Diseases and Health Care (New York, Springer, 2006), and Aging and Chronic Disorders (New York, Springer, 2008) with Mark L. Goldstein. Prior to teaching at CSUEB, he was professor and esearch dean at the California School of Podiatric Medicine, and has been on the faculty or staffs of Michael Reese Hospital, University of Illinois at Chicago, College of Medicine, Department of Family Practice, and School of Public Health, DePaul University, and Argonne National Laboratory.
-- Kimberly Legocki