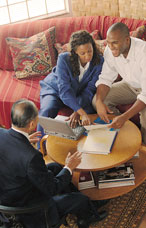 2 person signing document with a notary guy
Start your own business, become a more valuable employee, provide customer service for your business or organization, earn additional income, or get recommissioned. Cal State East Bay's intensive one-day seminars are designed to equip you with everything you need to know to become an effective notary or to renew your notary commission. In addition, students have the option to take the Notary Public Exam immediately after each training session.
Course titles include: Become a Notary in One Day and Renewing Your Notary Commission.
Notary classes are offered at the Hayward Hills Campus, and will take place on Saturday, Feb. 15.
For more information on CSUEB's Notary Public Training visit the program's Web page or contact Program Coordinator Janet Kelly at janet.kelly@csueastbay.edu. 
--Erin Merdinger