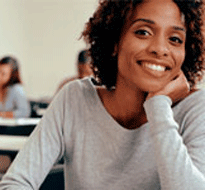 student
Learn how to apply to graduate school at California State University, East Bay during the "Pathway to Graduate School" event scheduled for Wednesday, Jan. 29, from 6 to 8 p.m. in the Multipurpose Room of the New University Union on CSUEB's Hayward Campus, 25800 Carlos Bee Blvd.
Those in attendance will be able to talk to faculty and staff about the various graduate programs offered at CSUEB, the admissions requirements and process, cost of attendance, and financial aid. Plus, attend workshops on how to apply to graduate school, how to write an effective personal statement, how to finance graduate education, and strategies on how to take the GRE or GMAT tests. 
Information and online registration is available at gradevents. Further information, call (510) 885-3286 or e-mail APGSstudentservices@csueastbay.edu.
For detailed information about applying to one of CSUEB's graduate programs, please visit the Prospective Graduate Students Web site.
Don't miss this opportunity to get all your questions about Graduate School answered in one place.
-- Barry Zepel