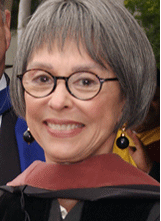 Rita Moreno, wearing her university regalia, at 2007 ceremony on the Hayward Campus. (by: Ben Ailes)
Congratulations to legendary actress Rita Moreno, who was presented with an award Saturday (Jan. 18) by the Screen Actors Guild in Los Angeles. Moreno, who was honored by Cal State East Bay with an honorary doctorate in 2007, did a little of everything in accepting the lifetime achievement award from the actors guild.
The 82-year-old entertainer, who is a Bay Area resident, was clearly delighted with being singled out at the SAG Awards on Saturday (Jan. 18) night. The crowd of actors at the Shrine Auditorium gave her a standing ovation, with Julia Roberts whooping it up as Moreno's giddy acceptance speech came to a close.
"I am so (expletive) thrilled," she crowed after being introduced by old friend Morgan Freeman.
Moreno is one of Hollywood's rare EGOT winners — owner of Emmy, Grammy, Oscar and Tony awards. Her Oscar came in 1962 for her iconic portrayal of saucy Anita in "West Side Story."