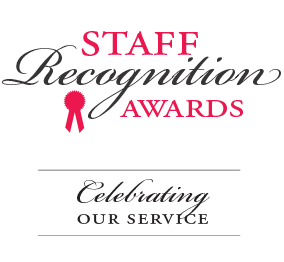 logo
All Cal State East Bay employees are encouraged to attend the Annual Staff Recognition Awards event Friday, Jan. 31, to be held from 2 to 4 p.m. in the Multipurpose Room of the New University Union.
Along with recognizing those individuals who have reached important yearly milestones in their career, the winner of the Vivian Cunniffe Award will be announced.
The award is given to the outstanding staff employee whose efforts go beyond that which is necessary to accomplish their particular job. The nominees for the Vivian Cunniffe Award are: Joyce Campbell, Admissions Department; Lynn Clement, Office of the Registrar; Fernando Coronado, Facilities Development & Operations; Serena Diaz, Information Technology Services; Chantal Ebarle, Financial Services; and Barbara (Lyn) Harton, Social Work Department.
In addition, a number of CSUEB employees will display their musical talents to enhance the overall employee celebration.
To RSVP and get further information, contact Veronica Salvador at veronica.salvador@csueastbay.edu or call 885-3803.
-- Barry Zepel