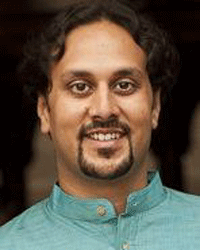 Amer F. Ahmed
February 20, 2014 10:00am
Amer F. Ahmed -- scholar, intercultural diversity consultant, and Hip Hop activist -- will use Hip Hop as a tool for speaking about the climate of prejudice and bigotry facing American Muslims. His presentation is another of the events for the Week of Inclusive Excellence sponsored by the Cal State East Bay Office of University Diversity and the ASI Diversity Center.
Ahmed's presentation takes place from 3 to 4 p.m. today (Thursday, Feb. 20) in the Diversity Center located in the New University Union on Cal State East Bay's Hayward Campus. Admission is free and the community is invited to attend.
Ahmed, a noted poet, is also known for engaging multi-media presentations, which feature "Islam: Beyond the Myths, Breaking Down the Barriers." Born in Springfield, Ohio to Indian Muslim immigrants, Amer says he has "dedicated his life to engaging and facilitating diversity across human difference." His education, world experiences, and Indian-Muslim-American upgringing helps him to understand the need for respect and dignity of all people.
Following his graduate studies at Indiana University, Amer served as director of intercultural programs at Loras College in Iowa and later at Concordia College in Minnesota. His education, global experience and prominent role in the Hip Hop Congress add to his overall knowledge base.
-- Barry Zepel and Corey Gin