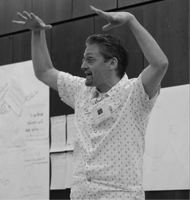 Marco Pizzaro
Cal State East Bay faculty, academic advisors, staff and students are welcome to join a discussion on "Beyond A Deficit Model: The Community Cultural Wealth Model & Hispanic Students" led by Marcos Pizzaro, a faculty member in the university's Educational Leadership program. It takes place on Thursday, Feb. 20 from noon to 1:30 p.m. in the Biella Room of the University Library. Lunch will be served.
This event is part of Cal State East Bay's Week of Inclusive Excellence, sponsored by the Office of University Diversity.
"Yosso (2005) defined community cultural wealth as an array of knowledge, skills, abilities and contacts possessed and used by Communities of Color to survive and resist racism and other forms of oppression," Pizzaro explained.
For more information about this and other events during the Week of Inclusive Excellence Feb. 17-21, contact the University Office of Diversity at (510) 885-2809.
-- Barry Zepel