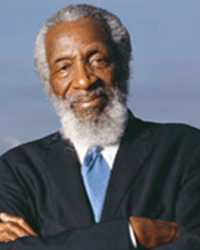 Dick Gregory, legendary comedian and social activist.
February 25, 2014 10:00am
Dick Gregory, who gained fame as a stand-up comedian in the 1960s and has been a social activist, critic, and writer for about 50 years, will be speaking and performing on Cal State East Bay's Hayward Campus this Thursday (Feb. 27) from 9 to 10:30 p.m. in the Multipurpose Room of the New University Union. The appearance by the 81-year old Gregory is sponsored by the Associated Students Inc. Diversity Center and is part of CSUEB's celebration of Black History Month.
Admission to Gregory's stand-up is free and the campus community is invited to attend.
"Come to laugh, but be prepared to think and learn, as Gregory tells jokes and speaks truth to power," said Jonathan Stoll, the center's manager.
Gregory's social satire helped change the way European-Americans perceived African American comedians since he first performed in public in the 1950s. At that point he was part of a new generation of Black comedians that included Bill Cosby and Nipsey Russell.
His first TV appearance was on The Tonight Show, at the time starring Jack Paar. It was at that point that Gregory became nationally recognized for a "biting brand of comedy that attacked racial prejudice."
Also a business man, Dick Gregory founded Health Enterprises Inc., a company that distributed weight loss products, in 1984. With this company, he made efforts to improve the life expectancy of African Americans.
-- Barry Zepel