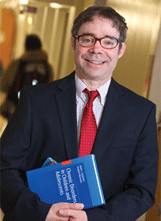 Stephen J. Morewitz (by: Stephanie Secrest)
The Forensic Social Sciences Association (FSSA) has been founded in San Francisco by a Cal State East Bay faculty member, Steven J. Morewitz.
Morewitz, a lecturer in the university's Department of Nursing and Health Sciences, created the FSSA for the advanced training of students at the undergraduate, graduate and postdoctoral levels in applying social sciences such as psychology, sociology and anthropology to civil, criminal, immigration, military, government, admiralty and trademark law.
He created the association in January as an international and interdisciplinary organization dedicated to advancing the development of certifications in forensic social sciences, policy initiatives and research. Morewitz said the FSSA will soon launch its first journal, Forensic Social Sciences.
"A major focus of the FSSA will be to enhance existing forensic social sciences training programs around the world and assist colleges and universities in establishing new ones to meet the technological developments in the field," Morewitz said. "In addition to expanding employment opportunities, the FSSA is committed to collaborating with practicing forensic social scientists in different countries."
He noted that "important work is being done in Europe, Australia, New Zealand, and other countries."
"For example, the European Network for the Social Studies of Forensics was established to advance forensic DNA practice throughout Europe," Morewitz said. "The FSSA plans to collaborate with forensic social scientists to improve the use of emerging technological innovations in the justice system."
"Forensic social scientists increasingly are playing an important role in the justice system," said Morewitz's colleague Daniel B. Kennedy, president of Michigan-based Forensic Criminology Associates. "The FSSA is the first such organization dedicated to advancing forensic social sciences training, research, practice, and policy."
In addition to the newest organization, Morewitz founded Stephen J. Morewitz, Ph.D., & Associates, the first full-service forensic sociology consulting firm in 1988 in Chicago. An award-winning author or co-author of nine books and three forthcoming books, Morewitz is co-editor of the award-winning Handbook of Forensic Sociology and Psychology (New York: Springer, 2014).
-- Barry Zepel