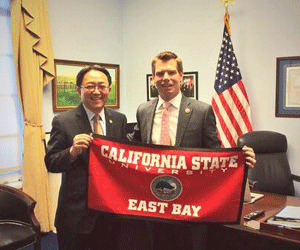 Cal State East Bay President Leroy M. Morishita is shown with East Bay Congressman Eric Swalwell in the representative's Washington, D.C. office.
February 26, 2014 10:00am
Cal State East Bay President Leroy M. Morishita is in Washington, D.C., along with California State University Chancellor Tim White and other leaders of CSU campuses, as part of "Hill Day."
Morishita is part of the CSU delegation seeking federal support for public higher education from all of the legislators who represent California.
As part of that effort, the CSUEB president met with Congressman Eric Swalwell, who represents California's 15th Congressional District in the East Bay, including the part of Hayward where the Cal State East Bay campus is located. Morishita visited the first term representative in Swalwell's Capitol office.
The two then posed for pictures holding a CSUEB banner. One of those photos was posted Tuesday (Feb. 25) on Facebook. Not just leaving it at that, Swalwell immediately sent out a Tweet  following the meeting using the photo with the hashtag, "#gopioneers."
-- Barry Zepel