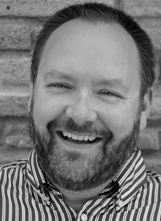 Buddy James
Buddy James, in his first year as founding director of Cal State East Bay's new School of Arts and Media (SAM), has been organizing a series of events to help introduce the school to the campus community. The series is called "SAM around Campus," and is designed to bring events that normally take place in one part of campus. In coming days they will be happening in other parts of campus. The first two are scheduled:
On Tuesday, Feb. 25 at 3 p.m., at the Agora Stage: The CSUEB Jazz Orchestra, under the direction of Director of Jazz Studies Mitch Butler, will perform music from the band's upcoming Monday, March 10 performance at Yoshi's Jazz Club. Both performances will feature guest artists Marvin McFadden and Mike Olmos.  The Yoshi's event takes place at 8 p.m.
On Monday March 3 at 1 p.m., on the Agora Stage: Daniel Banatao and Leslie Tammone will sing "The Internet is for Porn" from the upcoming Department of Theatre and Dance production of Avenue Q, directed by Marc Jacobs March 7 & 8, 14 & 15 in the University Theatre. 
Tickets for Avenue Q can be purchased at CSU east bay tickets and tickets for Yoshi's can be purchased at: Yoshis
James also said that SAM has launched a new podcast called SAMSpeak, designed to raise awareness of SAM activities. SAMSpeak is hosted by James. The first episode features Avenue Q director Marc Jacobs and cast members from Avenue Q. The campus community can listen to SAMSpeak on the CSUEB School of Arts and Media Facebook Page Facebook CSUEB SAM