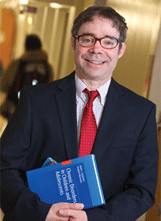 Stephen J. Morewitz, Ph.D. (Photo: Stephanie Secrest)
Lecturer Stephen Morewitz to present forensic research on air hijackings
With the intent for improving aviation safety and the understanding of social control theory, Cal State East Bay lecturer Stephen J. Morewitz, Ph.D., will present his latest forensic sociology research on the outcomes of aircraft hijackings. That presentation will take place in San Francisco at the annual meeting of the Society for the Study of Social Problems Aug. 15-17.
Using a sample of 202 known aircraft hijackings from the Aircraft Hijackings Project, Morewitz said he discovered that hijackers are less likely to be killed when the hijacked planes were diverted to unplanned destination. He plans to discuss the implications of these findings for improving aviation safety and understanding of social control theory.
Morewitz, a faculty member of CSUEB's Department of Nursing and Health Sciences, is the author of more than 100 publications, including the award-winning books, Stalking and Violence (New York: Kluwer/Plenum, 2003); Domestic Violence and Maternal and Child Health (New York: Springer, 2004); Chronic Disorders in Children and Adolescents (New York: Springer, 2011); Chronic Diseases and Health Care (New York, Springer, 2006); and Aging and Chronic Disorders (New York, Springer, 2008) with Mark L. Goldstein.
Prior to teaching at Cal State East Bay, he was professor and research dean at the California School of Podiatric Medicine and has been on the faculty or staffs of Michael Reese Hospital and University of Illinois at Chicago.
California State University, East Bay is the San Francisco East Bay Area's high-access public university of choice. CSUEB serves the region with campuses in Hayward and Concord, a professional development center in Oakland, and an innovative online campus. With an enrollment of more than 14,000, the University offers a nationally recognized freshman year experience, award-winning curriculum, personalized instruction, and expert faculty. Students choose from among more than 100 professionally focused fields of study for which the University confers bachelor's and master's degrees, as well as an Ed.D. in education. Named a "Best in the West" college, as well as a Best Business School, by the influential Princeton Review, Cal State East Bay is among the region's foremost producers of teachers, business professionals and entrepreneurs, public administrators, health professionals, literary and performing artists, and science and math graduates.