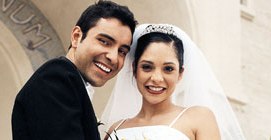 wedding
Cal Stat East Bay's Wedding Planner Certificate Program was recently featured in a news segment on KPIX Channel 5 news.
The internationally recognized program, taught by program founder and 25-year hospitality industry veteran Joyce Scardina Becker, is available in both an in-class and online format. Graduates of the program gain in-depth knowledge of all facets of researching, designing, planning, coordinating and evaluating weddings.
To watch the full KPIX video on CSUEB's Wedding Planner Certificate program.
--Erin Merdinger