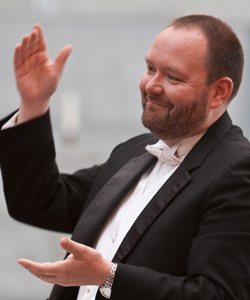 Buddy James will be conducting the East Bay Singers for a Saturday evening concert in Fremont.
The East Bay Singers, conducted by Cal State East Bay professor Buddy James, will be performing in concert Saturday, March 8, at 8 p.m. at the historic Old Mission San Jose, 43300 Mission Blvd. in Fremont.
The concert -- "You Are the Angel Glow" -- will feature jazz works as well as spirituals, according to the very busy James, who in addition to being the university's director of choral and vocal activities, is in his first year as founding director of CSUEB's new School of Arts and Media.
Ticket prices are $7 and $5, while Cal State East Bay students, faculty and staff with a university ID card being admitted free. Tickets can be purchased online at CSU east bay tickets.  Tickets also will be on sale at the door one hour prior to showtime, with only cash or check being accepted at that time.
One of three choirs under the direction of James, the East Bay Singers perform regularly on the campus, in the community and on annual tours as ambassadors of the university. There are 32 members of this group, which is made up of both music majors and those majoring in another subject area. The other two choir groups are the East Bay Jazz Singers and the East Bay Singing Society, formerly known as Oratorio Society.
Further information about the concert is available by contacting the Cal State East Bay Music Department at (510) 885-3167 between the hours of 8 a.m. and 5 p.m. Mondays through Fridays.
-- Barry Zepel