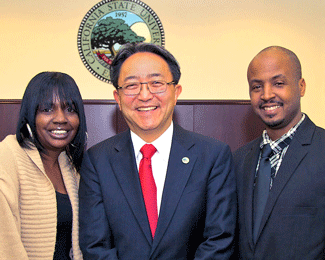 President Leroy M. Morishita was proud to welcome Henrietta Lacks' grandchildren Kim Lacks and David Lacks, Jr. on Feb. 17. Video of their presentation is now available to view via the University Web site.
Two members of Henrietta Lacks' family visited Cal State East Bay's Hayward campus on Feb. 17 as part of the kickoff for the university's "Week of Inclusive Excellence."
For those members of the CSUEB campus community who missed seeing the presentation -- "An Evening with the Henrietta Lacks Family" -- by her grandchildren, Kim Lacks and David Lacks, Jr., video of it is now available via the Office of University Diversity Web page. They used the presentation to further expand on the story told in the New York Times "best-selling" book, "The Immortal Life of Henrietta Lacks.
See the video at diversity. Once on the page, students, faculty and staff will need to input their university net ID and password.
Henrietta Lacks was a poor black tobacco farmer whose cells, taken without her knowledge in 1951, went on to become the first immortal human ever grown in the laboratory. Those cells, nicknamed HeLa, became one of the most important tools in modern medicine, vital for developing the polio vaccine, cloning, gene mapping, in vitro fertilization, and more. Though she died in 1951, her cells -- alive and growing to this day -- are still the most widely used cell line in the world.
Members of the Lacks family have been fascinating audiences at universities and libraries throughout the United States, talking about Henrietta Lacks and her important contributions to science. The international success of the book written by Rebecca Skloot has interested milions of readers in Ms. Lacks, her legacy, as well as her family. The Lacks family didn't find out until the 1970s that the cells existed.
While her cells have helped biotech companies make millions of dollars, her family has never benefited from the commercialization of HeLa cells. Despite what they has endured, the Lacks family say they are proud to honor the memory of Henrietta and her unparalleled contributions to science.
-- Barry Zepel