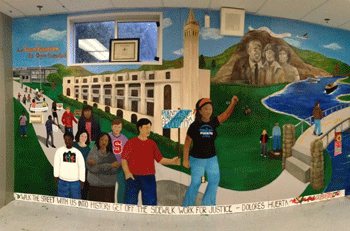 The completed mural project reflects the Puente mission -- ¡La Puentización Es Oportunidad! (by: Lauren Pitcher)
The Tennyson High School Puente lounge, once an outdated room with old furniture and bare walls, has been transformed by the addition of a beautiful new mural, unveiled at a celebration on March 2.
Students in the school's Puente program had dreamed for years of creating a mural that would depict the Puente model and mission to students, parents and staff. Over time the idea evolved as a means to enhance the Tennyson campus, to create a beautiful space for students to study and relax, and to pay tribute to the Puente student experience. 
In April of 2013, new principal Lori Villanueva and the Puente staff secured the support of California State University, East Bay and Hayward Promise Neighborhood (HPN) to make the dream a reality. Emily Chow, CSUEB outreach coordinator who also manages the HPN Service Learning Program, recruited CSUEB art and service learning students Maribel Wigon and Sonny Tan as lead artists and mentors for the Tennyson Puente students to design and create the mural. Wigon and Tan solicited donations from CSUEB and University Art in San Jose to help fund supplies for the project, and then immersed the students into the fine art of mural painting.
Chow, Wigon and Tan teamed up with Tennyson Puente students Lilybeth Domingo, Natasha Galicia, Luis Loza, Arely Lopez, Diego Cervantes and Juan Delgadillo. They began painting in April of 2013, completing the mural project this past February.
One month later the painters unveiled the mural titled ¡La Puentización Es Oportunidad! or "Puentizatión is Opportunity" at a public celebration of their work and of the mural's significance.
Dan Guerrero, Tennyson High English and Puente instructor, said: "La Puentización is a student-led project that visually depicts our students' future path to graduate from a four-year university and return to their community as mentors and leaders; (that is) the mission of Puente. More importantly, it is a visually stunning backdrop to our everyday lives and a reminder of why we dedicate ourselves to school."
The mural project also represents the importance of community and giving back as reflected in the collaboration between Tennyson's Puente Program, CSUEB, and HPN to see the mural project through to completion.
-- Lauren Pitcher