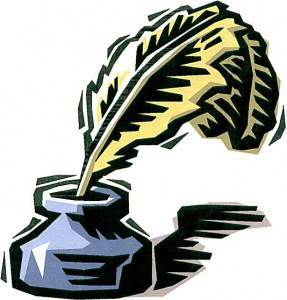 cartoon clip art of feather pen in ink
All currently-enrolled Cal State East Bay students are invited to enter the ninth annual Helen "Jackie" DeClercq Poetry contest through the university's English Department. Up to three poems per student may be submitted to the English Department Office in room 2579 of the Music Building by Friday, March 14.
Cash prizes will be awarded to the writers of the best three poems -- $250 for first prize, $100 for second prize, and $50 for third prize.
"While poems may be on any subject, those celebrating aspects of family life are especially welcome," said Susan Gubernat, CSUEB English professor and director of the Creative Writing Program.
All entries for a DeClercq poetry prize must be typed, and they must include the student's name, address, phone number and email address (on a separate sheet of paper – names must not appear on the poems).
Previous DeClercq first prize winners from other years are not eligible to participate in this year's contest.
Winning entries will be published in this spring's issue of Occam's Razor, the English Department's literary magazine. All other entries will remain in consideration for publication in Occam's Razor.
-- Barry Zepel