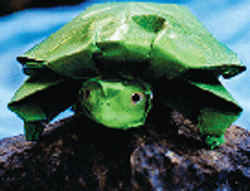 green paper turtle
The Cal State East Bay University Art Gallery opened its 2014 Emerging Artists Exhibition. Admission is free to the exhibition, which will run through April 10. The gallery is located adjacent to room 108 of the Arts and Education building on CSUEB's Hayward Campus, 25800 Carlos Bee Blvd.
The juried exhibition features artworks by select students from a number of Bay area universities and colleges. More than 300 art pieces were submitted for the gallery's consideration.
University Art Gallery curator Philip Ringler, a Bay Area artist and educator, helped organize the exhibition.
The gallery is open 11 a.m. to 4 p.m. Monday through Thursday.
More information about the exhibition and the University Gallery is available at Art Gallery.
-- Barry Zepel