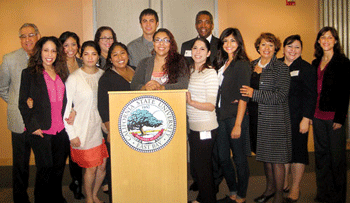 Students, faculty and staff of the Chabot Puente Project and Cal State East Bay's GANAS program celebrated the successful higher education initiatives at March 7 breakfast on the CSUEB Hayward Campus.
Cal State East Bay's renowned "GANAS" program (Gaining Access 'N Academic Success), was recognized for "providing a pipeline to community college transfer students" at the 16th annual Chabot Puente Project Student-Mentor Breakfast on Friday on CSUEB's Hayward Campus.
More than 150 people attended the event, including Chabot College students, seniors from Hayward area high schools participating in the Puente program, mentors, local elected officials, CSUEB students and staff. During the event, Cal State East Bay was honored for its support of the Puente Project as well as for the success of GANAS.
Stan Hebert, acting vice president for Student Affairs at CSUEB welcomed attendees, and Cal State East Bay President Leroy M. Morishita spoke on the partnership between CSUEB, Chabot, the Hayward Unified School District, the city of Hayward, and the East Bay region.
"Through these partnerships, we will continue to collaborate on initiatives that enrich the educational experiences and opportunities for the students in our region," Morishita said. "We are pleased to host this annual event and partner in this effort. It is part of Cal State East Bay's commitment to student success – our No. 1 priority."
According to Hebert, the purpose of the annual Puente breakfast is two-fold: "The first is to support and recognize the importance of student-mentor relationships; the second purpose is to introduce Puente Project students -- counselors, and mentors to Cal State East Bay," he said. "These students are preparing to transfer to a four-year college, and we hope they will seriously consider Cal State East Bay."
Anali Villasenor, a CSUEB nursing student and Chabot Puente alumna, gave the keynote address. She talked about her own journey through the program and her experiences at Cal State East Bay, reminding the Puente students to "focus on [their] dreams," keep working toward their transfer, and to "be of service – make difference in the lives of others."
The mission of the Puente Project is not only to increase the number of educationally underserved and under-represented students who enroll and earn degrees in four-year colleges and universities, but to also increase the number of those who return to the community as leaders and mentors in service of succeeding generations. Puente is open to all interested students.