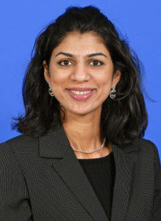 Madhu Iyer will be one of the panelists for the March 13 career program.
Cal State East Bay will host another Industry Job Panel -- this one focused on careers in math, economics and statistics -- on Thursday, March 13 from noon to 1:30 p.m. in the Multipurpose Room of the New University Union on the Hayward Campus, 25800 Carlos Bee Blvd.
Confirmed panelists, all Cal State East Bay alumni, for the latest career program include Hindol Datta, chief financial officer for Lifestyle Solutions; Madhu Iyer, data scientist for Intuit; Patricia Millan, senior research statistician at Nielsen; Joseph Rickert, data scientist and community manager for Revolution Analytics; and Dan Souza, enterprise investment planning consultant for Kaiser Permanente.
Datta earned both an MBA in 1994 and a master's degree in economics in 1990 from CSUEB, while Iyer '05, Millan '11 and Rickert '06 earned master's degrees from the university in statistics. Souza earned his bachelor's degree in economics from CSUEB in 1993. 
The moderator will be Eric Suess, chair of Cal State East Bay's Department of Statistics and Biostatistics.
Future panels will feature experts in Allied Health and Biotechnology on April 10, and Sustainability and related careers on April 15. Another panel is tentatively scheduled for May 13 to discuss "Global Arena and Diversity" careers that should interest current students majoring in political science and foreign languages.  
-- Barry Zepel