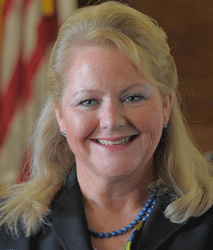 Alameda County DA Nancy O'Malley
Current students as well as alumni of Cal State East Bay's departments of Political Science and Public Affairs and Administration are invited to a professional networking event featuring two prominent graduates of the university. Nancy O'Malley, Alameda County district attorney, and Anil Comelo, human resources director for the city of Oakland, will serve as the guest speakers.
The program will take place at CSUEB's Oakland Professional Development Center, 1000 Broadway (near the 12th Street BART station) on Tuesday, April 8 from 11:30 a.m. to 1 p.m.
O'Malley is a 1977 Political Science graduate, while Comelo earned her bachelor's degree in Economics in 1993 and a master's in Public Administration in 1995.

Admission is free to CSUEB students and alumni, but RSVP is necessary by April 4 to alumni@csueastbay.edu or by calling (510) 885-2877.

-- Barry Zepel