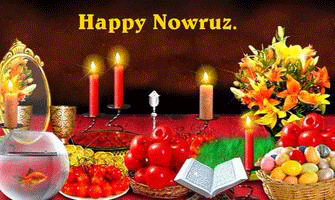 dinner with text happy nowruz
The Afghan Student Association of Cal State East Bay will be hosting a "Nowruz" banquet on Saturday, March 15, recognizing the beginning of the new year on the Persian calendar.
The banquet, scheduled from 5 to 8:30 p.m., will be held in the Multipurpose Room of the New University Union. Admission is free to the event.
"Nowruz," as it is spelled in Afghanistan, is Persian for "New Year," and marks the first day of spring. It is spelled "Norouz" by Iranians. But no matter the spelling (there are up to 21 variations), it has been celebrated by people from diverse ethnic communities and religious backgrounds for thousands of years.
Traditional Afghani food will be served as part of the Nowruz celebration on campus. Event sponsors include the Associated Students Inc., ASI Diversity Center, Office of Student Life and Leadership, and the Hayward Ghazni Sister City Committee.
Further information about the banquet is available by contacting Shuaib Amiri, president of the CSUEB Afghan Student Association, at shuaib.amiri@csueastbay.edu or (925) 667-5119.
-- Barry Zepel