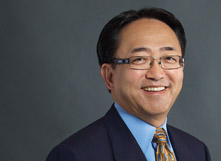 President Leroy M. Morishita
In his message to the University on March 18, President Leroy M. Morishita shares the story of an alumnus whose educational journey at Cal State East Bay took longer than most graduates, but was made possible through perseverance and the support of CSUEB faculty and staff. His success is but one example of the University's motto: "Through Adversity to the Stars."
"My goal is to share stories illuminating the way our University transforms lives," President Morishita wrote. "One such story of overcoming challenges – one that highlights our motto... is that of Robert A., who received his bachelor's degree from CSUEB in 2012. I had the pleasure of meeting him at a recent CSU Alumni gathering in New York City.  This philosophy major's story is a familiar one at Cal State East Bay because it is less about the destination and more about the journey."
If you missed it, you can access the President's message to employees. In his message, he encourages you to share with him other such stories about Cal State East Bay helping students.