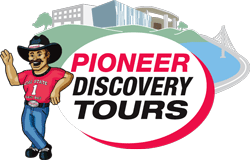 Pioneer Discovery Tours
Cal State East Bay has launched a new program, Pioneer Discovery Tours, to host alumni, their family and friends on the Hayward campus. Those who take the tour will be provided with refreshments and a unique souvenir, according to Penny Peak, director of alumni relations.  While supplies last, tour guests will receive a limited edition Warren Hall Souvenir Box.
The program was announced April 22 via the CSUEB Alumni Facebook page and LinkedIn account as well as via the university Massmail system.
Tours will take place the last Friday of every month, beginning Friday, April 25, at 9 a.m.  Subsequent tours are at different times of day,  to be convenient for different schedules, according to Peak.
More information about the tour program is available.   
Tour reservations are required. CSUEB alumni should contact Peak at (510) 885-4156 or via email to penny.peak@csueastbay.edu.