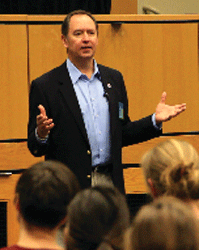 Actor Carol McIntyre tells of his personal battle with aphasia, which inspired the film, "Aphasia."
Cal State East Bay's Department of Communicative Science and Disorders (CSD), announces a free screening of the award-winning film Aphasia: The Movie on Wednesday, May 7 at noon in the University Theater on the Hayward campus. Tickets are available through event brite.
The CSD Department is home to the university's Speech-Language Pathology program, and is hosting the movie in celebration of Better Hearing and Speech Month.
Aphasia the Movie is inspired by the true story of actor/director Carl McIntyre's personal battle with aphasia after surviving a stroke in 2005. The 40-minute film will be followed by an upbeat and moving hour-long presentation, Hope is a Four Letter Word. Described as "the most valuable motivational speech I have ever seen" (by Dr. Nancy Helm-Estabrooks, internationally-known aphasia expert), McIntyre will explain the process of coming to terms with aphasia and making positive and inspired decisions about his new life.
McIntyre, whose credits include TV's Dawson's Creek and In the Heat of the Night, as well as various film and stage productions, suffered a severe stroke in 2005. Immediately after the stroke, McIntyre was left virtually unable to speak. He was diagnosed with aphasia and apraxia of speech. Nearly ten years later, McIntyre continues to make significant improvement in his ability to communicate and participate in life situations.
Aphasia is an acquired communication disorder that does not affect intelligence, but impairs a person's ability to talk, understand, read and write. It affects over 1 million Americans, yet many people have never heard of it.
Better Hearing and Speech Month has been celebrated by the American Speech-Language-Hearing Association since 1927.This movie and motivational talk raises public awareness about communication disorders and their impact on people's lives. It also highlights the vital role of communication therapy, provided by licensed speech-language pathologists, in transforming the lives of persons with communication disorders.
-- Anna Hamilton