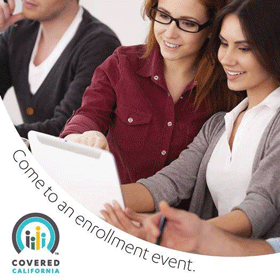 covered CA logo
The deadline for Cal State East Bay students to enroll for health insurance through Covered California (also known as "Covered CA") has been extended until Tuesday, April 15. The Affordable Care Act requires that every person have health insurance coverage.
To assist students interested in enrolling in and/or learning more about the Covered CA program, representatives of the CSU Health Insurance Education Project will be available in the Wellness Room of the RAW Center on the Hayward campus of CSUEB to meet with students from 3 to 6 p.m. on Wednesday, April 2; from 2 to 4 p.m. on Tuesday, April 8; and 1 to 3 p.m. on Wednesday, April 9.
"Covered CA" is the new online marketplace for affordable, quality health insurance. At CoveredCA you can:
Compare health insurance plans
Determine how much financial assistance you may receive
Learn about your options, benefits and costs
Purchase your insurance
It is very likely that students will be eligible for one of two low-cost or free health insurance options. Some students and their families will be eligible for substantial assistance in paying health insurance premiums if they purchase insurance through Covered California.  Depending on their income and the type of coverage they select, insurance may cost students and their families as little as $5 to $10 a month.
Estelle Ulanday Davis, CSUEB campus coordinator for the CSU Health Insurance Education Project, said that Covered CA offers government-reduced rates, and for some students who qualify, free health insurance through Medi-Cal.
The CSU Health Insurance Education Project (HIEP) is a joint CSU/CSULA project to educate CSU students, their families and campus staffs about the new health insurance law and the opportunity it offers many in the CSU community to get affordable health insurance.
Questions about the CSU Health Insurance Education projects can be directed via e-mail to HealthInsuranceEducationEB@gmail.com or via the Web site Cal State CoveredCA. Information also is available via Facebook at facebook events.
-- Barry Zepel