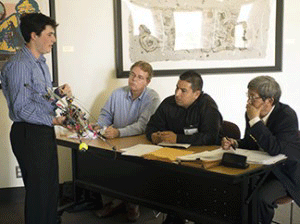 A competitor in a 2013 CSU Research event is shown explaining his research for faculty jurors. (by: CSU)
Cal State East Bay's Hayward campus will be hosting the California State University Student Research Competition Friday, May 2, and Saturday, May 3.
More than 250 students and 50 faculty members from all 23 campuses in the CSU system will be on campus from noon on Friday until 3 p.m. on Saturday.  They will be registering for the event in the New University Union. Their research will be presented in the Valley Business and Technology Center (VBT) building and in the Arts & Education building.
Student presentations will be scored by 60 faculty jurors from local colleges, labs, and industry from throughout the state. Many CSUEB faculty have volunteered to be jurors, according to Jason Singley, CSUEB associate professor of physics and coordinator of the research competition.
"We want to give them (Cal State East Bay faculty) a special thank you for helping out," Singley said.
Singley indicated there will be lots of signage on campus, but asks that the campus community provide assistance to visitors from other CSU campuses duirng the course of the Friday-Saturday event. 
"The visiting students and faculty have put a lot of effort into their presentations," Singley noted. "We hope to make this a great experience for them and for the 14 CSUEB students who will also be presenting."
Members of the Cal State East Bay campus community are invited to attend a reception for the student researchers; it will be held Friday at 5 p.m. in the New Union.
Any questions about the event should be directed to Singley at jason.singley@csueastbay.edu
-- Barry Zepel