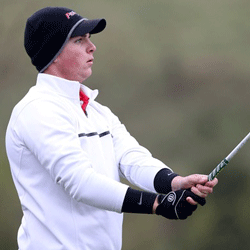 A.J. Hebert made Pioneer history on Tuesday by sinking an ace on the 17th hole at the CCAA Championships. (by: Kelley Cox)
Cal State East Bay junior A.J. Hebert sank a hole-in-one on the 17th hole at Brookside Country Club in Stockton to highlight the first day of play at the 2014 California Collegiate Athletic Association Men's Golf Championships.
Hebert's ace is the first by a Pioneer golfer in competition since the program was revived in 2001. The left-hander played an 8-iron off the tee at the 181-yard hole, carrying a water hazzard, landing the ball just a few feet past the pin, and spinning back in. Hebert had previously missed an ace by about one foot on the 12th hole. He finished that first round with a total of 73 (+1), and then followed that up with an 81 (+9) in the afternoon. The junior was in 28th place at 153 (+10) with one round to play.

You can listen to an interview with Hebert following that followed his big accomplishment April 22 on the Pioneers' Soundcloud page.

Freshman Adam Stone carded the squad's best second-round score with a 74 (+2), giving him a total of 152 (+9) for the day. Stone is just ahead of his teammate in 27th place after one day.

Sophomore Barrett Taylor turned in cards of 76 (+4) in round one and 81 (+9) in the second round, putting him in a tie for 32nd place at 157 (+13). 

Fellow Sophomore Joel Keylor is in 38th place overall after shooting 80 (+8) and 82 (+10) on the first day of play for a total of 162 (+18).

Senior Elliot Busichio carded 86 (+14) in the morning, but bounced back to fire a 77 (+5) in the afternoon. He's in 39th place at 163 (+19).