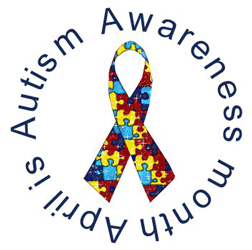 autism awareness month logo
With Autism being the fastest growing developmental disability in the nation, Cal State East Bay's College Link Program -- through its Accessibility Services Department -- will offer a workshop to members of the CSUEB faculty and staff on Tuesday, April 29, from 12 noon to 1 p.m. in LI2250.  
According to estimates from the Centers for Disease Control, one in 66 children will have a diagnosis of autism.  With increasing awareness and intervention, a significant number of these children will succeed in school and transition to university settings.  
CSUEB has an innovative program, the College Link Program, to help students with autism succeed in college.  The workshop will allow other members of the CSUEB campus community to meet employees of the College Link Program and learn how to support students with autism on the campus.
Presenters will include Shubha Kashinath, assistant professor of the Department of Communicative Sciences & Disorders, and Bryan Fauth, program coordinator for the Collee Link Progam.
Those planning to attend should register online.
-- Barry Zepel