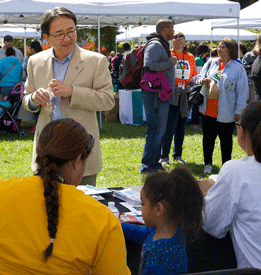 CSUEB President Leroy M. Morishita as he spoke to Expo volunteers and participants as part of April 5 activities sponsored by Hayward Promise Neighborhood. (by Garvin Tso)
In his April 1 message to the Cal State East Bay campus community, President Leroy M. Morishita talked about the university as "a place of service."
"From the way we provide students with an excellent educational experience, to the manner in which we work together toward common goals, service is at the root of who we are and what we do," he said.
Later in his message he encouraged CSUEB students, faculty and staff to take part in and volunteer to help staff the "5K Healthy Promise Run, Walk, Stroll and Roll" as well as the Community Resource Expo hosted April 5 at John Muir Elementary School and Eden Area Greenway, respectively. Both events were organized by the Hayward Promise Neighborhood (HPN) initiative.
A great many people from the campus accepted Morishita's invitation, joining other segments of the Hayward community at both HPN events. The CSUEB president was among the volunteers taking part in the day's events.
HPN is a community initiative led by Cal State East Bay in partnership with a variety of community, non-profit and government agencies.
After participants completed the 5K event, they enjoyed the Expo, which provided a variety of health and education resources, food, entertainment, and activities for kids. Admission to the 5K and the expo was free.
To learn more about the Hayward Promise Neighborhood initiative and its upcoming acitivities, visit www.haywardpromise.org.
View a gallery of photos from the 5K event and the expo.
Read the full text of President Morishita's April 1 message of "Service" to the CSUEB campus community.
-- Barry Zepel