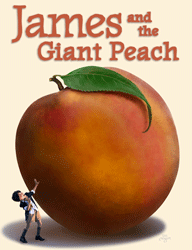 james and the giant peach book
Cal State East Bay's University Theatre will be the site of four performances of "James and the Giant Peach," a fantasy adventure for children.
Performances are scheduled for 8 p.m. on Friday and Saturday, April 4-5, with 2 p.m. matinees on Saturday and Sunday, April 5-6.
The adventure is about how young James escapes from his dreary life with his aunts, named Spiker and Sponge. It begins when he meets a magical stranger with a bag filled with mysterious crocodile tongues. James goes on to have an accident in which he grows the largest peach in the world and climbs into a hole in the side of that giant fruit. He is greeted there by a centipede, spider, earthworm, grasshopper, glowworm and ladybug.
The CSUEB campus community is invited to join James and his insect friends as they embark on a wildly enchanting and magical journey – an epic adventure on a flying giant peach.
Tickets prices range from $10 to $15. although their is a special "two-for-one" offer when tickets are purchased through the Web site dmt online using the promotion code: peaches.
Further information is available by calling (510) 881-6777. The show is being presented by the Douglas Morrison Theatre.
-- Barry Zepel