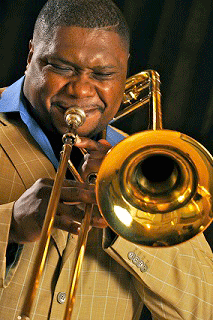 Wycliffe Gordon
Renowned trombonist Wycliffe Gordon will headline the 29th Annual Cal State East Bay Jazz Festival that begins Friday, April 18 and continues through Saturday, April 19, on the Hayward Campus. The performance is in the University Theatre.
Admission to the festival is free to CSUEB students, faculty and staff members with a university ID card.
The festival opens with a Friday 7:30 p.m. performance by Gordon, a special guest, with the CSU East Bay Jazz Band. Festival activities on Saturday for registered jazz bands.
Wycliffe Gordon, in  addition to his credentials as a trombonist, is an arranger, composer, band leader, and music educator. With the trombone, he can scat, multi-note, and plunge, as musicians did in the 1930s. Gordon has played with many music luminaries including Dizzy Gillespie, Joe Henderson, Branford Marssalis, Lionel Hampton, Tommy Flanagan and Shirley Horn.
More information is available by calling (510) 885-3167.
-- Barry Zepel