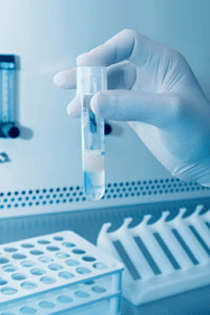 holding beaker
Cal State East Bay will host another Industry Job Panel -- this one focused on careers in Allied Health and Biotechnology -- on Thursday, March 10 from noon to 2 p.m. in the Multipurpose Room of the New University Union on the Hayward campus, 25800 Carlos Bee Blvd. Current CSUEB students and alumni are invited. Admission is free.
Confirmed panelists, all Cal State East Bay alumni, include Dora Goto, lab manager for Bay Valley Medical Group; Francesca Dufour, health educator for APPLE FamilyWorks and mental health assistant for Be Well Psychological Services; Gretchen Sangil, nurse for O'Connor Hospital; and Ndifreke Usen, R&D research associate for Siluria Technologies. The moderator will be Donald Gailey, chair of the university's Department of Biological Sciences.
Gotto earned her bachelor's degree in biological science in 1989 from CSUEB, with Dufour '13 getting her's in psychology, Sangil '10 in nursing, and Usen '13 in biochemistry.
An upcoming job/career panel on Tuesday, April 15 will feature experts in sustainability and social responsibility. Scheduled to participate in that panel are Mike Dresen '79, principal geologist and CEO for Weiss Associates; Jordan Figueiredo '07, solid waste specialist for Castro Valley Sanitary District; and Robert Marcus '10, director of operations for Boys and Girls Clubs of Marin and Southern Sonoma Counties. That panel's moderator will be Michael Lee, professor in CSUEB's Department of Geography and Environmental Studies.
Another jobs/career panel is tentatively scheduled for Tuesday, May 13 to discuss "Global Arena and Diversity" careers. That one should interest alumni and current students majoring in political science and foreign languages.  
-- Barry Zepel