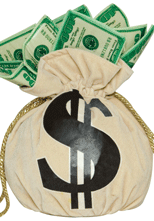 bag with money sticking out
The Cal State East Bay Libraries is presenting a series of workshops, displays and activities meant to help everyone in the university community become "money smart."
Learn about how to find personal finance resources from Librarians Sharon Radcliff and Doug Highsmith on Thursday, April 10 from 1-2 p,m. in room LI 3040.
Then on on Friday, April 11 from 12-1 p.m.  attend a session on "Credit Cards and Your Credit Score Explained" with Danielle Dyer, Bernice Jacinto, Megan Hickman and Jimena Madrigal and "Tips on Buying Car Insurance" by Kenneth Nguyen, in room LI 3040.
For more resources, check out the Personal Finance guide offered by the Library.