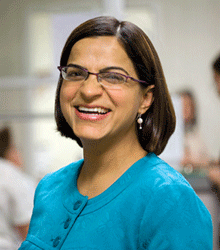 Nidhi Mahendra
Nidhi Mahendra, chair of Cal State East Bay's Department of Communicative Sciences and Disorders, will be making two presentations at Michigan State University on Thursday, April 3, as part of that university's 24th annual "Herbert J. and E. Jane Oyer Lecture Series, sponsored by MSU's Communicative Sciences and Disorders Department.
Mahendra, an associate professor who also is director of CSUEB's Aging and Cognition Research Clinic, is certified as a bilingual speech-language pathologist. Her expertise lies in evidence-based practice in adult neurogenic language disorders and multicultural issues influencing client-clinician interactions in speech-language pathology.
In addition to receiving the 2006 Editor's Award from the American Journal of Speech-Language Pathology, Mahendra also was the 2012 recipient of an Award of Excellence for Distinguished Contributions in Multicultural Affairs by the American Speech-Language-Hearing Association.
Mahendra's first speech at Michigan State will focus on "Access to Speech-Language Pathology Services: Experience and Barriers Reported by Minority Clients. It will be followed by a reception and then her second presentation on "Evidence-Based Assessment and Intervention for Persons with Dementia: Let's do this, SLPs."
-- Barry Zepel