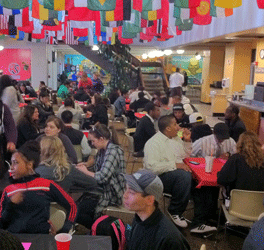 The Old University Union, at lunch hour during one of its busiest days. (Garvin Tso)
The Old University Union building on the Hayward campus of Cal State East Bay will be closed for renovation beginning sometime in mid-May.
The work will include an extensive upgrade to the building mechanical system, as well as the installation of a new roof, and will re-open in time for the Fall quarter. During construction, Associated Students, Inc. and Dining Services offices will be temporarily relocated to the New University Union.
Taco Bell and Pizza Hut Express will also be closed during construction; notices will be posted one week in advance of the actual closing date. 
During the closure, Dining Services will offer additional 'grab and go' options at several locations, including Starbucks, Einstein's Bagels, and the POD (Provisions on Demand) store.  In addition, daily special plates will be offered at all food service locations to allow for quicker service, and the Dining Commons will continue to offer the $5 FLEX special on Fridays. 
Food trucks will continue to be on campus on Wednesdays and Thursdays.  Starbucks will also remain open for an additional hour, Monday through Thursday.
The POD store will remain open through commencement, and will then be relocated to the Einstein's location with limited offerings during the summer months.  U.S. Bank will remain open throughout the construction period.
Any questions about the renovation project should be directed to Keat Saw, director of Planning Design and Construction, at (510) 885-3968 or keat.saw@csueastbay.edu.
-- Barry Zepel