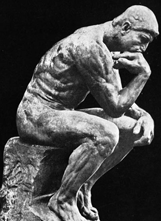 statue
The next meeting of Cal State East Bay's Philosophy Society will tackle the issue of "why copyright requires philosophy" with the help of a lecture by Craig Derksen, a professor with the University of Victoria. Derksen's presentation will take place from 2 to 3 p.m. on Thursday, April 24 in room 4075 of Meiklejohn Hall.
Related questions, including "What is intellectual property?" and "How can we tell who owns what and why?" are on the list for being answered by the guest lecturer.
Derksen's studies include many areas of philosophy, but his primary interest is the philosophy of popular art. He received a bachelor's degree from the University of Manitoba and an M.A. and Ph.D. from the University of Maryland.

The Cal State East Bay campus community and general public are invited to hear Derksen's lecture. Admission is free.
More information about the event is available by contacting Jennifer Eagan, CSUEB professor of philosophy and public affairs and administration, at jennifer.eagan@csueastbay.edu.
-- Barry Zepel