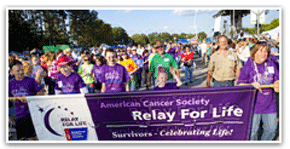 parade
Cal State East Bay will be hosting an event May 16-17 to support cancer survivors while helping participants learn more about how to fight back against cancer through the American Cancer Society.
The event is called Relay for Life. The campus community and the general public are encouraged to participate in this event by either forming a team or being a volunteer to help out with the event. It will commence commence adjacent to the Agoura Stage on the Hayward campus.
For more information, contact Kealoha Pomerantz at kealoha.pomerantz@cancer.org or (415) 515-8626 or by visiting the event Web site at Relay For Life.