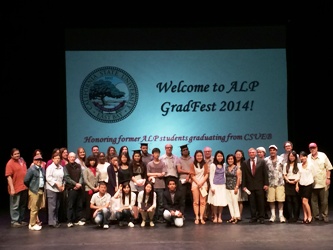 CSUEB's American Language Program (ALP) hosts annual GradFest, honoring former ALP students graduating from CSUEB in 2014.
Cal State East Bay's American Language Program (ALP) hosted its fifth annual GradFest from noon to 2 p.m. on May 14 at the University Theatre on the Hayward Hills Campus. Event attendees, including both current and former ALP students as well as University faculty and staff, gathered together to celebrate former ALP students who matriculated into the University and are now graduating from CSUEB.
"Our University is one of the most diverse universities in the nation," said ALP Director Thomas Tyner. "It's great to see how ALP contributes to that diversity, and GradFest is a place to celebrate that." 
Approximately 160 former ALP students are expected to graduate in 2014 from Cal State East Bay with a bachelor's degree or master's degree. For many graduates, the event provides an opportunity for reflection and chance to reunite with former classmates one last time before moving on toward new endeavors. 
Guests enjoyed dance and musical performances from graduating students and speeches from University officials, including Associate Vice President for University Extension Brian Cook. The ceremony was followed by an outdoor luncheon.
CSUEB's ALP offers a range of high-quality programs for students from all over the world, including diploma, certificate and graduate preparation programs, in addition to the Intensive English Program.
Since its inception in 1978, ALP has welcomed students from all over the world and ALP alumni in the 2014 graduating class are no exception. Graduates represented a variety of countries, including Thailand, Taiwan, Korea, Japan, Saudi Arabia, Iran, and China.
For more information on CSUEB's ALP, visit the program website.
--Erin Merdinger