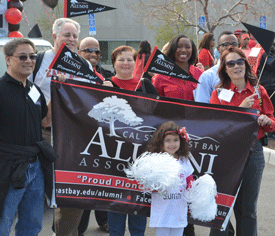 people holding banner
The Cal State East Bay Alumni Association is seeking three to five new board members for two-year terms beginning this July.  Pioneer alumni who have a passion for supporting the University, students, and alumni programs are invited to apply.  The application deadline is June 20.
The alumni board of directors represents the diversity of the CSUEB alumni in age, background, major, profession, and locations around the Bay Area.  The full board meets approximately six times per year; directors participate on one or more committees and support alumni programs. A typical time commitment is three to six hours per month.  Ongoing board priorities include:  building the alumni membership program and a culture of philanthropy; outreach to alumni and students; and alumni events such as networking mixers, homecoming programs, graduation celebrations, industry job panels, and Pioneer Discovery Tours. 

On May 29, the alumni board voted to revise its election process. In previous years, board members were elected through a ballot sent to members of the association. Given the small, two percent participation by members in the 2013 board election, along with new ideas to involve members in meaningful ways and election practice at other CSUs and non-profits, the Board decided to amend the bylaws to elect new members by board vote, according to Penny Peak, director of alumni relations. 

This year, following submission of an application, potential board members will be interviewed by a member of the nominations committee and have a chance to ask questions and learn more about board activities.  The election is scheduled for late June, with new board members starting in July.

Read more about board qualifications and apply. See the list of current board members.

For more information, contact Peak at penny.peak@csueastbay.edu or (510) 885-4156.