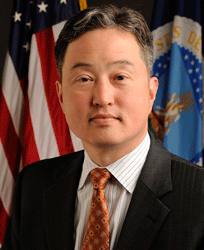 Brian Ronholm
Cal State East Bay alumnus Brian E. Ronholm has been moving up in the federal government's "food chain."
This past December Ronholm was named acting under secretary for food safety in the U.S. Department of Agriculture after the departure of Elisabeth Hagen. Ronholm is responsible for the Food Safety and Inspection Service, which is tasked with ensuring the safety of the nation's meat, poultry and egg products.
The Bay Area native, born in 1967, graduated with a bachelor's degree in finance from CSUEB in 1990. Six year later he earned a master's degree in public policy management from George Washington University.
Ronholm arrived in Washington, D.C., in 1993 to work as a legislative policy analyst for a law firm that concentrated on public health issues. Thirteen years later he joined the staff of Connecticut Congresswoman Rosa L. DeLauro as an agriculture appropriations associate. The legislation he worked on included the 2008 Farm Bill, the Child Nutrition Reauthorization bill, and the Food Safety Modernization Act
Ronholm went to work for the Obama Administration in April of 2011 as deputy under secretary for food safety. When Hagen left in 2013, Ronholm took over the top food safety position.
Ronholm and his wife have a son.
-- Barry Zepel