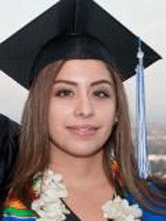 Arianna Avendano '13
Arianna Avendano, who earned her bachelor's degree in psychology from Cal State East Bay in 2013, was commencement speaker for graduation ceremonies at College of San Mateo on Friday, May 23. Avendano earned her associate of arts degree from CSM in 2011 before transferring to CSUEB.
Avendano was selected by the Associated Students of CSM to serve as the speaker for the 2014 commencement. The theme of her speech was "Define Your Own Meaning of Success."
As a CSM student, she worked as a student ambassador—a member of a team of students who assisted in outreach to high schools, campus tours and college events— an official student representative of CSM. Avendano rose to the position of "lead" student ambassador providing leadership to the 10-student cadre of ambassadors. For her contributions to the college and her academic success, Arianna was the recipient of several prestigious scholarships awarded by CSM.
Avendano now works as a program counselor for a leading Bay Area medical weight loss and management program, providing individual counseling, assessment and support services to help patients develop healthy and sustainable lifestyle changes. She is also a member of THRIVE (The Alliance of Nonprofits of San Mateo County) and CSM's Advisory Council for Community Outreach. In addition, Avendano is a California-certified sexual assault counselor, and a volunteer for Rape Trauma Services in Burlingame.
-- Barry Zepel