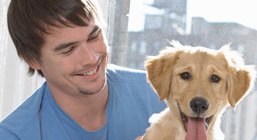 man with his dog
Cal State East Bay was recently featured as one of seven top veterinary technician schools on Vet Tech Colleges' "7 Great Northern California Vet Tech Schools" blog.
Vet Tech Colleges is part of Sechel educational publishing, which aims to provide informative educational content in fields with growing career outlooks, such as veterinary assisting.
CSUEB's Veterinary Assistant Certificate Program is self-paced and offered completely online. The curriculum covers topics from veterinary medical terminology and veterinary office practices to recognizing signs and symptoms of illness and assisting a veterinarian with surgical and treatment procedures.
Admission to the program is open to any interested student who is proficient in keyboarding, has a basic understanding of a word processing computer program and has a command of English grammar and punctuation. No veterinary office work experience is required.
--Erin Merdinger