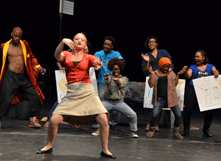 This is a scene from a Cal State East Bay Performance Fusion production in 2012.
Performance Fusion, Cal State East Bay Theatre and Dance Department's annual celebration of student created performances, will be divided into two distinct programs this year to better reflect the diversity of the students' work. Program A will be in the University Theatre; Program B will be in the more intimate Studio Theatre. Both facilities are located on the north side of the university's Hayward campus at 25800 Carlos Bee Blvd.
The pieces in the University Theatre offer a wide range of subject matter.
"Missing Marisa," a play by John Patrick Shanely and directed by senior Sean Hobbs, deals with temptation to give into obsessive infatuations again and again, however obvious the harm done to us. "Angels Over Miami," written and directed by Senior Rhiannon V. Williams, concerns a new religion created by homeless children in Florida that has spread to other homeless youth as far west as California.
Dance, as always, is a crucial part of this program, showing off the creativity of student choreographers who must bring their pieces from conception to fully realized performances. Program A in the University Theatre features dance pieces choreographed by Estrella Ramirez ("desideare"), and Caitlyn Greene ("the light that sparks memory..."), and Yumi Nomura ("Self Discovering").
Program A will begin in the University Theatre at 8 p.m. Friday and Saturday, May 30 and 31. 
Program B, which offers some contrast from Program A, will be in the intimate Studio Theatre at 8 p.m. on Friday June 6, Saturday June 7, and 2 p.m. on Sunday June 8. The works offer a wide range of subject matter and styles. "The Waiting Room," written and directed by John Girot is a comic, theatre of the absurd  examination of alternate perspectives as a group of disparate people all find themselves in a waiting room waiting for vastly different things. "Chasing Love," choreographed by Ashley Norwood, tells the story of a girl's journey from innocence, rape, and mistrust to an eventual triumph of inner strength and love. "What Was Holiest," compiled and performed by Brigid Swan, uses sections of Sophocles' "Antigone" to explore man's relationship to God. And lastly, Yumi Nomura directs the final scene from Henrik Ibsen's classic feminist drama, "A Doll's House."
Tickets may be purchased for  $15 (general admission); $10 (discount); and $5 (CSUEB student) at: CSUEB tickets 
Information is available at (510) 885-3118 weekdays. Performance information is available at: Performance
CSUEB welcomes persons with disabilities and will provide reasonable accommodation upon request. Please notify event sponsor in advance at (510) 885-3118 if accommodation is needed.