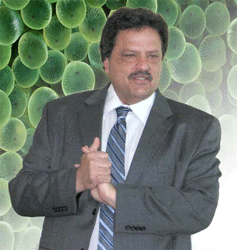 James Houpis, Provost and Vice President for Academic Affairs
James Houpis, provost and vice president for Academic Affairs, addressed attendees of Cal State East Bay's Faculty Awards and Posters event April 22, part of the "Week of Scholarship" April 21-25 at the university. What follows are highlights of his presentation, including his recognition of outstanding faculty members.
"When I first arrived at CSU East Bay in 2010, I felt like the campus did not do enough to celebrate the accomplishments of the faculty and students who were actively engaged in publishing articles, writing grants, providing our students with opportunities to be part of their research, and engaging with our community.
Last year, with the assistance of the Faculty Affairs Committee and the Academic Senate, we were able to begin the process of recognizing our faculty.  Especially those who give so much of their time to write and speak nationally and internationally as outstanding researchers.  We also know it was important to acknowledge those faculty who mentor students on a daily basis in their labs and offices and who make academic work connect to real life experiences.   Additionally, it is important to honor those faculty who take their passion for social justice and equality into the community.  Together, these faculty make it possible for our region to benefit from a shared vision that we can have a better world through an educated citizenry.
So today, we celebrate all of our faculty.  We know that through their teaching, research, and outreach they are working to serve our students and our society with their best efforts and their best insights. 
I'd like to recognize last year's honorees who are here with us today:  Dr. Lettie Ramirez, the 2013 Outstanding Contributor to Community Engagement, Dr. Jennifer Eagan, the 2013 Outstanding Mentor to Students, and our 2013-14 Phillips Award Winner, Dr. Nancy Mangold.  Thank you for coming today!  You are wonderful role models for our students and for our new faculty.
To start this year's honors, I would like to recognize the Outstanding Mentor to Students.  This faculty member was described by one of his students in the following way, "Not only does he help students with their research projects, but he also strives to ensure that his students have every opportunity to succeed in both their academic careers and future professional life.  All researchers who have worked with him can agree that he goes above and beyond his responsibilities to be a mentor."
Dr. Michael Groziak came to the Chemistry Department at CSU East Bay in 2003.  He has written numerous articles and chapters in books, he is revered by his students for his acumen in the classroom, and has done a great job of making his student feel like they are part of a working lab.  Again, to quote from a nominator, "Once a week the entire research groups meets to talk about our projects.  We take turns discussing the synthetic method by which we want to approach our target compounds.  Whether or not we succeed or fail, Dr. Groziak is always there to help, encourage, or celebrate."  So today we celebrate Michael Groziak.   
Next, we recognize an individual who came to the Department of Kinesiology in 1998, served as its chair from 2006-2010, and who has done research on the International Women's Softball Association and Wilma Rudolph.  She believes that through exploring women's roles in sport, we can better understand the many complex issues of gender, race, and equality in our society.  Today, we are recognizing Dr. Rita Liberti, the Founding Director of our Center for Sport and Social Justice, as the 2014 Outstanding Researcher on Issues of Diversity, Social Justice and Multiculturalism.  This is our first year presenting this award, which represents some of the core values of our institution and the strength of much of our faculty scholarship.  As one colleague wrote of Dr. Liberti, "She has become a dominant presence and champion for the teaching and awareness of social justice, diversity and multiculturalism on our campus.  I have no doubt that she will continue to produce astounding work."
Now it is my pleasure to recognize two outstanding scholars, one untenured and the other tenured, who have produced books, articles, lectures and editorials on topics that range from the fairly dry (at least to me) field of Financial Management to the fairly lively (though ostensibly dead) field of Zombies.  Dr. Sinan Goktan has been with our Department of Accounting and Finance for 6 years and has produced several articles that have appeared in the College of Business and Economics' list of the Magnificent Seven and the Nifty Fifty.  And Dr. Christopher Moreman, who is currently serving as our Chair of Philosophy, has produced several books on death, dying, zombies, and the afterlife.  He has appeared on Fox Television and been quoted in the Wall Street Journal!
Lastly, I am pleased to honor this year's Outstanding Contributor to Community Service.  This is a special pleasure, since it is my understanding that this award drew more nominations than any other this year.  It is a wonderful tribute to our University that so many of our faculty are engaged and engage our students in serving their community.    I want to especially recognize nominees Amy June Rowley and Silvina Ituarte who are working in Fremont and Hayward to bring their special expertise to bear on issues of deaf education and restorative justice.  Our winner this year is an individual who is one of the founders of our new GANAS program, which helps Latino transfer students successfully transition to the University.  And, she is a former chair of our Ethnic Studies Department.  Dr. Luz Calvo has been involved with such community efforts as Decolonize Oakland, the Dignity and Resistance Coalition, and she has been an outspoken advocate for food justice.  She does cooking demonstrations and teaches students how to both take care of themselves and bring care to their communities.  As one nominator wrote, "Dr. Calvo models engaged citizenship for her students and brings her scholarship and her activism to work on behalf of all communities." 
It is my great pleasure to recognize Dr. Luz Calvo as this year's Outstanding Contributor to Community Engagement."