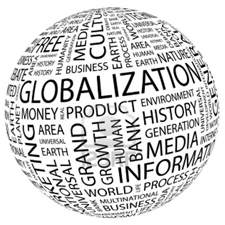 words on a sphere
Cal State East Bay will host its final Industry Job Panel for the for the current academic year on Tuesday, May 13. It will focus on careers in "Diversity & the Global Arena." It should interest alumni and current students majoring in political science and foreign languages.
The panel session will take place from noon to 2 p.m. and be held in the Pioneer TV Studio located in the basement area under the University Library on the Hayward campus, 25800 Carlos Bee Blvd. Current CSUEB students and alumni are invited. Admission is free.
The panelists, all Cal State East Bay alumni, will include Wahidi Fazli '01, senior manager for business process architecture, for Oracle; Nicole Garrett '04, supervisor of the Global Fulfillment Program for Polycom, Inc.; Gidalthi Gonzalez '12, program associate for TechWomen with the Institute of International Education; Brigette Kouakou '11, certification specialist for Fair Trade USA; and Edwin Okong'o '05, journalist with the Huffington Post and co-host of Africa Mix on KALW Radio.
The panel moderator will be Norman Bowen, professor in Cal State East Bay's Department of Political Science.
The Industry Job Panels program is sponsored by CSUEB, Cal Stae East Bay Alumni Association; the Associated Students, Inc.; Academic Advising & Career Education; and Student Life and Leadership.
-- Barry Zepel