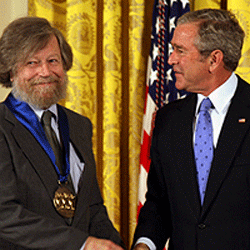 Composer Morton Lauridsen (left) is shown accepting the National Medal of Arts from former President Bush in 2007. Lauridsen will be on the Hayward campus Thursday.
Composer Morten Lauridsen, winner of the National Medal of Arts from the National Endowment for the Arts, will be visiting Cal State East Bay's Hayward campus on Thursday, May 15. Lauridsen's music will be performed by CSUEB students and faculty members beginning at noon in the Recital Hall (room 1055 of the Music Building).
The performance will be followed by a discussion with the composer, who has been composer-in-residence of the Los Angeles Master Chorale (1994-2001) and a professor of composition at the University of Southern California Thornton School of Music for more than 40 years. Admission to both the performance session and disucssion period are free and the public is invited.
Lauridsen was named an "American Choral Master" in 2006 and was presented with the National Medal of Arts by former President George W. Bush in a 2007 White House ceremony "for his composition of radiant choral works combining musical beauty, power and spiritual depth that have thrilled audiences worldwide."
The composer's works have been recorded on more than 200 CDs, five of which have received Grammy Award nominations, including O Magnum Mysterium by the Tiffany Consort.
--Barry Zepel