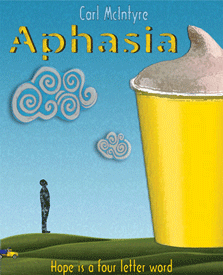 Aphasia poster
It is with delight, that Nidhi Mahendra, chair of Communicative Sciences and Disorders, invites the campus community and the public to a screening of Aphasia - The Movie on Wednesday, May 7 from noon to 2 p.m. in the University Theater,
The movie features actor/film maker Carl McIntyre. The movie chronicles the true story of McIntyre, who had a stroke and acquired aphasia at the peak of his acting career. We are delighted that he will be here and present a motivational speech right after the 1-hour movie. His talk is titled 'Hope is a four-letter word' and will end with questions from the audience. The movie is amazing in inspiring audiences and students.
Aphasia affects nearly two million Americans half a million of whom are US troops returning from combat overseas. Yet most people have never heard the term. We seek to change this on our campus and promote awareness about strokes and aphasia, and awareness of the professions of speech language pathology and audiology.
In Communicative Sciences and Disorders, we truly believe that a first step for creating a more socially just, inclusive society for persons with disabilities is to enhance our collective awareness and build ramps for the human mind to grow and stretch. Unite with us on this charge and join us on May 7th!
Tickets are free; please register through Event Brite Aphasia
For a trailer of this remarkable,uplifting movie.
-- Nidhi Mahendra, Associate Professor & Chair, Communicative Sciences & Disorders