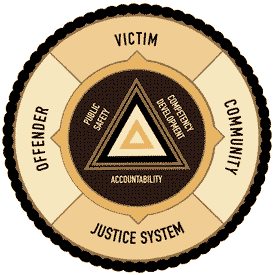 Criminal Justice logo
"Restorative Justice in the East Bay" is the theme of an all-day conference that will take place on the Hayward campus of Cal State East Bay on Friday, May 9. The event -- "Working Together for Restorative Justice in the East Bay: A Day with RJ Professionals" will be held in the New University Union's Multipurpose Room from 9 a.m. to 4:30 p.m.
"Restorative justice represents a theoretical framework by which to view crimes from the perspective of repairing the harm caused, hepling victimes to healworking toward addressing the offender's needs, and invoving the community in the process of attaining justice," said Silvina Ituarte, professor of Criminal Justice Administration at CSUEB. "In restorative justice, there is an emphasis on rebuilding relationships, accountability and community cohesion."
Mark Umbreit, director of The Center for Restorative Justice and Peacemaking at the University of Minnesota School of Social Work, is the conference's keynote speaker beginning at 10 a.m. Panel discussions will focus on social work, juvenile justice, and restorative justice in schools,
The conference is sponsored by the University Role Models Club, The Forensic Science Club, and Cal State East Bay's academic departments of Criminal Justice Administration and Social Work, as well as the College of Education and Allied Studies. Additional community support for the conference has been provided by Trader Joe's, Safeway, Peets Coffee, Costco, and Clif Bar.
Additional information about the conference is available at Criminal Justice.
-- Barry Zepel