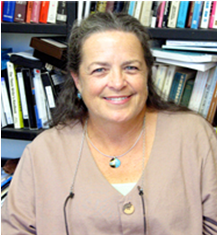 Sally Murphy
Sally Murphy, Cal State East Bay's senior director of undergraduate studies and general education, has been chosen as one of three vocational award winners for 2014 by the Hayward Rotary Club, it was announced by Debby De Angelis, club president.
The organization annually honors three persons outstanding in their vocation, one each in the public, private and non-profit sectors.  Murphy is the winner for the public sector (which includes all public schools, fire, police, city and county employees).  In addition to being based on her work at CSUEB, she also as been a regular judge at the Rotary Club's speech contest.
"We're thrilled that Sally Murphy's extensive and ongoing commitment to the university and our surrounding community have been recognized by the Hayward Rotary," said Sue Opp, Cal State East Bay's associate vice president for Academic Programs and Graduate Studies. "Sally's leadership in general education and freshman learning communities is well known. But perhaps less well known are her ongoing contributions and commitments to civic engagement in our neighborhoods."
De Angelis, former CSUEB athletic director, said Murphy will receive her award at the Rotary meeting on Monday, May 19. Delmo Della-Dora, a CSUEB professor emeritus of Teacher Education, will be presenting it to Murphy. The meeting at which the award will be presented starts at 12:15 p.m. and is held at the Masonic Hall, 1074 B. St., Hayward; admission is $20. The CSUEB campus community is invited.
In 2013, the National Resource Center recognized Murphy as one of 10 educators to be an Outstanding First-Year Student Advocatefor her contributions to first-year student success in higher education.
-- Barry Zepel